The Center for Digital Government honors DMV for offering constituents a compelling digital user experience amid the challenges of the COVID-19 pandemic.
SimpliGov congratulates the California Department of Motor Vehicles (DMV) for being named State Government Experience – COVID-19 Response Winner by Government Technology's Center for Digital Government for its Virtual Field Office (VFO). SimpliGov is proud to partner with the California DMV to help enable the virtual DMV experience, along with a host of new innovative digital services offered by the DMV.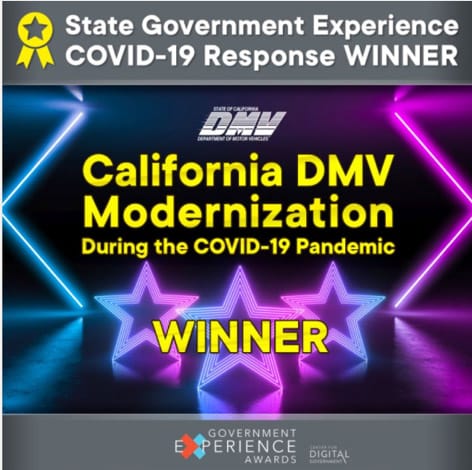 The annual Government Experience Awards honor U.S. governments that are offering constituents increasingly sophisticated digital user experiences. The California DMV is a pioneer in automating government processes so that nearly all transactions can be accomplished digitally and through other channels, without visiting a DMV field office.
Amid the COVID-19 pandemic, this government modernization effort to automate workflows and deliver an enhanced digital user experience is highly relevant. To accelerate their digital transformation, the DMV relied on the SimpliGov workflow automation platform.
"SimpliGov's partnership with the California DMV has been incredibly productive, delivering to the constituents of California a digital experience that sets a new standard for government at all levels across the country," said Gary Leikin, CEO of SimpliGov. "For the Center for Digital Government to recognize the California DMV with this year's prestigious State Government Experience Award is a testament to the DMV's innovation and forward-thinking efforts to demonstrate what government can achieve by automating workflows with SimpliGov's workflow automation platform."
To read the full case study, click the following link: https://simpligov.com/californias-dmv-modernizes-simpligovs-online-forms/