Workflow automation is an always-expanding, ever-more-complex area of digital transformation and business process management. So, we've created a definitive guide to help enterprises understand the configuration types, benefits and adoption best practices involved in making workflow automation a reality.
Why did we create it? To bring clarity and guidance, so anybody considering workflow automation can gain a concise yet thorough understanding of how WFA can impact their operations.
As we say in the guide, automating workflows can have a positive effect on service delivery and customer experience, enhancing how an external customer, stakeholder or constituent engages with your enterprise.
Whether that's by accelerating the speed at which they receive service or by making their interaction with your processes more enjoyable and efficient – say, via online automated forms – a key goal of enterprise workflow automation is to both upgrade those experiences and create internal efficiencies.
Complexity made clear
Here are just a few of the questions it helps answer. Maybe you've had them yourself as you contemplate workflow automation adoption:
What are the real, tangible benefits to an organization? And if an enterprise has already tried document-based process or forms automation and been disappointed, why should they consider a new platform?
How do workflow automation software configurations vary, and which one is best for your operations?
How do different workflow management solutions stack up in terms of the ROI they generate?
What's the difference between the hard and soft ROI you'll see from adoption?
What's the impact it can have on compliance and digital governance?
How do you build a case for workflow automation that'll help you ensure internal buy-in?
What are the key factors involved in deployment planning?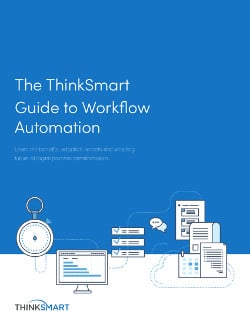 That's just the beginning of what we've included in The ThinkSmart Guide to Workflow Animation. We've learned plenty of lessons over the years, from both our own experience and from our collaborations with our customers, and we've crammed a lot of that into this document.
And, naturally, it's a totally free download, too.
Get the best guide to workflow automation you'll find anywhere
That's no idle boast. Seriously: We did plenty of research to make sure our guide was more complete, more packed with useful insights, tips and information from end-to-end, than any other workflow automation overview currently available.
Check it out and let us know what you think, and see our other resources, too. Plus, if there's any other information or documentation you'd like to see that could make your experience with adoption or operating workflow automation a better one, we're at your service to deliver it.